What is your favourite colour for an interior colour scheme? It's really interesting seeing the different colour palettes coming in and out of fashion.
Some colours are classic…..cool greys are always popular. We have lots of new build popping up in our area, and their show homes often seem to be dressed with grey as a base colour. A cool grey goes with a rainbow of popular colours. It tones well with duck egg blue, a new classic. Grey works well with dark red,  popular for a cosy lounge, and we are often seeing it paired with dusky pink/rose gold in bedrooms to great effect too. Combined with fresh zesty lime colours, grey also looks great in a modern kitchen.
This season we are also seeing lots of bold prints coming thorough, with lots of exotic leaves and animals featuring in the collections from Prestigious textiles and iLiv. We have loved working with those fabrics to eye catching effect. (Safe choices last the longest….but bold choices always look stunning, as not many clients are brave enough to go for it!)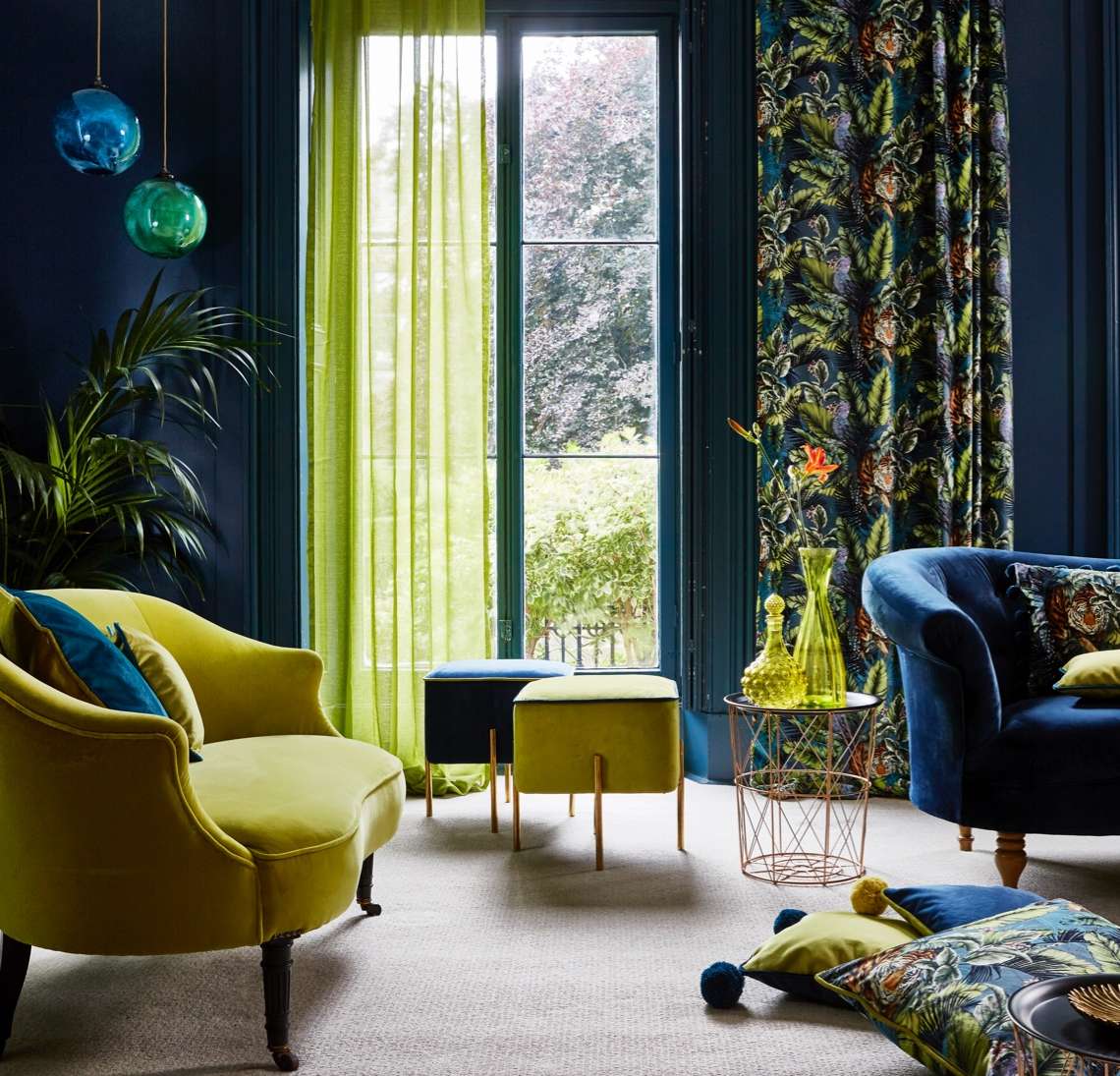 Dark green and dark royal blue are also featuring heavily in all of the latest fabric collections, if you are keen to be "on trend."
We have hundreds of fabrics available to view in our showroom. Sexy silks, laidback linen blends, cool cottons, traditional tartans and a veritable array of velvets and voiles….we are pretty confident we have the right fabric for you! We hold a wide range of sampling from big fabric houses including Romo, Fryetts, Porter and Stone, PT, Bill Beaumont Textiles and Villa Nova.
We also have accounts with lots of the other fabric manfacturers…so if you have seen something in a magazine/online or indeed in another interiors shop (Nooo!) then we may well be able to lay out mitts on it for you. Or indeed if we can't, we are happy to work with your own fabric if you want to obtain it elsewhere to give to us to turn into something awesome.(Just check in with us first, so we can check it's suitable for what you are planning, and we can work out how much you need to complete your project)
Come and have a look in our friendly showroom, just down from the station in Burgess Hill (easy on street parking, or pay and display in Wolstonbury Crescent carpark just behind us.